Baby blue-eyes Festival
Instagram photo contest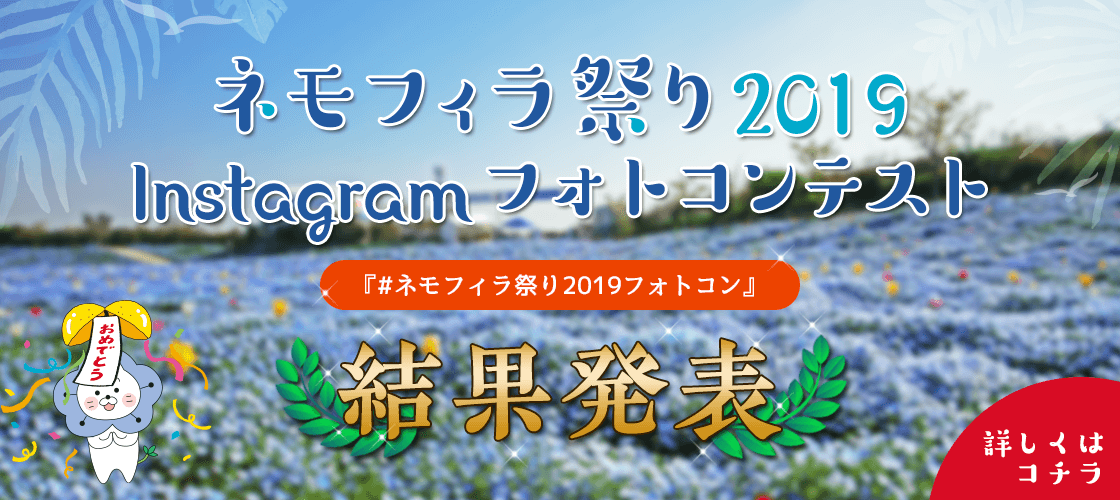 Application essential point
Theme
Photograph which charm of baby blue-eyes Festival is transmitted through
Shooting period
From Saturday, April 13, 2019 to Monday, May 6
The application deadline
Friday, May 10, 2019
Application method
① We install "Instagram"

② We search formal account "Osaka maishima seaside park" (osaka_maishima_seasidepark) and respond

③ We soak "# baby blue-eyes Festival 2019 fotokon" and post
Selection
The end of May, 2019
Announcement
During June, 2019
※We announce in our site.
Commendation, supplementary prize
Grand prix (for one person) : For JTB travel coupon 30,000 yen
Came out neatly; prize (two) : Kannabe Onsen blue ridge hotel pair accommodation coupon
Is interesting; prize (three) : Maishima ceramic art Kanto acting omen pair for free complimentary ticket
matagambarima prize (ten) : Goods mew original Nemo

※I will inform prize winner by direct message.
Sponsorship/examination
The baby blue-eyes Festival administration secretariat
Attention in application
Follow of formal account "Osaka maishima seaside park" (osaka_maishima_seasidepark) is necessary for application. You attach hashtag "

# baby blue-eyes Festival 2019 fotokon

", and please post photograph which you photographed. In addition, we invalidate contribution without hashtag.
All rights (copyright, proprietary rights, the right to use) of prize-winning work belong to Osaka maishima seaside park.
※Please submit film or photograph data after the winning a prize communication. When there is not submission of the first edition, please note that you may cancel winning a prize by deadline for submission. Support, cooperation company has right to use winning work gratis.
Entry is limited to unpublished or thing without announcement plan. Work considered to be double entry to other contests or similar work is disqualified.
Shooting in no-go zone and work which we judged are disqualified.
When person appears in subject, on application, consent of the person (subject) is necessary by all means. In addition, consent of pro-incarnation is necessary when subject is minor. When act violating copyright, right of likeness of other people is carried out, we cannot take responsibility of trouble about it at all. When violation becomes clear after the winning a prize decision, we may cancel winning a prize.
When it is not responded in formal account "Osaka maishima seaside park" (osaka_maishima_seasidepark), we invalidate right of winning a prize.
We send direct message of Instagram to prizewinner. When we do not get communication, we are selected and cancel.
When we use for brochure, poster, we may process the second.
We make and may sell products such as postcards.
For public information advertising of Osaka maishima seaside park, we may publish conversion, rental in third party or other companies.
Inquiry
※Please note that inquiry over telephone may be hard to be connected